KOJUTSUKAN: The place for the study of martial art skills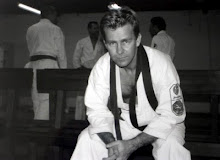 John Coles is one of the senior students and instructors of the legendary Jan de Jong from Tsutsumi Hozan Ryu Ju-jitsu. He writes one of the most serious and thorough blogs on Martial Arts out there. All his research is well documented and always gives an objective approach to many of the interesting subjects in the Martial Arts community.
We are very honored to have been given the permission to share his knowledge and opportunity to link to his blog,  Kojutsukan.
QUALIFICATIONS AND EXPERIENCE: 3rd dan Jan de Jong Jujutsu (a.k.a. Tsutsumi Hozan Ryu Jujutsu); 5th dan Australian Ju Jitsu Association; 1st dan aikido; 3rd grade Suci Hati pencak silat; trained and taught since 1983; taught in UK, Sweden, Norway, Denmark, Germany, Belgium, Netherlands, France, Indonesia, and of course throughout Australia; author of Jan de Jong: the man, his school, and his ju jitsu system which has been sold throughout Australia, New Zealand, Western Europe, and a number of Asian countries.
PROFESSIONAL QUALIFICATIONS: Bachelor of Commerce with triple major in accounting, finance, and management; Master of Business Administration (MBA) specialising in international management; Chartered Accountant and Chartered Secretary; Associate of Securities Institute of Australia having graduated dux of Western Australia.